Calibration tools
General Characteristics
In-game code

toolkit_3

Weight

1.5kg

Statistics
Call of Pripyat

Related mission: Tools

[Source]
"
A professional set of tools for fine-tuning of equipment. The note on the container indicates that the set was made in Germany. The toolkit contains everything required for almost any kind of tuning and calibration work.
- In-game description
"
The
Calibration tools
are a mission item in
S.T.A.L.K.E.R.: Call of Pripyat
.
Description
Edit
This high-tier toolkit must be brought to Cardan and Nitro as part of their Tools side mission. Each technician will give the player 1500 RU for it, and it will unlock tier 3 upgrades.
Just like other tools, there are two Calibration kits, but both are located in Pripyat, meaning one cannot access tier 3 upgrades without completing Pripyat 1 beforehand.
Locations
Edit
Department Store
Edit
The first set is located inside the Department Store, located in the basement behind the stairs. The player does not need to go down into the extremely dangerous anomaly field - but they do need to deal with a great number of Rodents inside the department store itself, as well as the labyrinth of doors required to find the basement entrance.
The lower section of the basement is an artifact spawning area, but is an extremely dangerous anomaly field - consisting of a Comet and chemical anomalies. A SEVA Suit is a must for remotely safe navigation.
A safer way is to go through the anomaly field by entering the underground from a manhole near the Grocery Store. The player will not have to deal with the Rodents, but with the anomaly.
The kit itself is located on the level above the anomaly/artifact area, on a table near a yellow light, to the front-right of the stairs as you enter from ground-level.
Old Service Center
Edit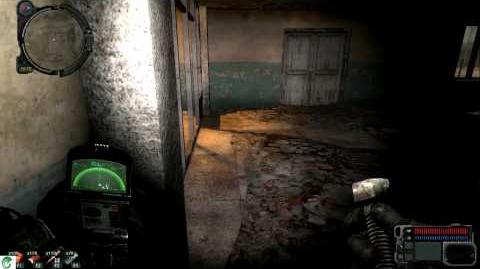 The second set is located inside the Old Service Center. It's specifically located in the second floor, and is fairly more difficult to acquire - it requires navigating a pair of electroshock anomaly fields, and fighting with a Burer in a compact space. Navigating safely through the anomaly is not easy due to the compact space. Once the player reaches the top floor and grabs the calibration kit, they can unlock a door which leads into a stairwell, taking them right down to the bottom floor and out into safety.
The lower of the two anomaly fields is also an artifact spawning area, and rarely a "Svarog" Detector might pick up one on the top floor as well.
Ad blocker interference detected!
Wikia is a free-to-use site that makes money from advertising. We have a modified experience for viewers using ad blockers

Wikia is not accessible if you've made further modifications. Remove the custom ad blocker rule(s) and the page will load as expected.