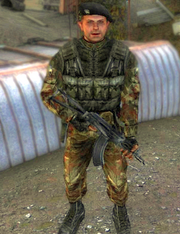 Captain Kazakov is the commander of the Spetsnaz forces at the Military checkpoint in the Cordon. He does not play a very large role, but the coordinates of his secret stash can be found on any soldier in the military checkpoint. He has the same appearance and PDA portrait as Kuznetsov.
Ad blocker interference detected!
Wikia is a free-to-use site that makes money from advertising. We have a modified experience for viewers using ad blockers

Wikia is not accessible if you've made further modifications. Remove the custom ad blocker rule(s) and the page will load as expected.