FN P90
Talk

2
1,156pages on
this wiki
FN P90
General Characteristics
Type

Submachine Gun

Feeding and cartridge
Statistics
Shadow of Chernobyl

Not Implemented (shape only)

[Source]
The FN P90 is a weapon which was planned for inclusion in S.T.A.L.K.E.R.: Shadow of Chernobyl and S.T.A.L.K.E.R.: Clear Sky[1] but was not included in the final version of the game.
Background
Edit

The FN P90 is a submachine gun designed and marketed by FN Herstal in Belgium as a "personal defense weapon", introduced in 1986. It uses a custom 5.7x28mm round. It is used worldwide by numerous military and police organizations, including the U.S. Secret Service and the Czech National Police. It is primarily used by the Belgian Army and, as with all new FN weapons, was first tested by the Belgian Army's elite para-commando brigade. Today the P90 (and the companion FN Five-seveN pistol) see action from Afghanistan to Lebanon and the desert in Tsaad by the Belgian special forces company.
Appearances
Edit
Build 1935
Edit
Though the weapon is not implemented or available, a complete P90 model and associated texture is available within Build 1935. The build also includes textures for the weapon's inventory icon as well as models and inventory icon textures for the associated 5.7x28mm FMJ and 5.7x28mm AP ammunition.
Shadow of Chernobyl
Edit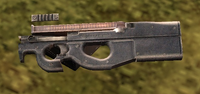 Within Shadow of Chernobyl the only remnants of the P90 are some of the weapon's shape and texture files (in-game model and texture only) and scattered code references to its presumed object name (wpn_p90). Curiously the model is incomplete compared to the version present in Build 1935: the sighting assembly on top of the weapon is not fully constructed, having only one detached piece of the assembly that floats above the rest of the weapon where the sight mount should be.
The weapon is included as complete in some mods, a notable example would be from a modder named gosuke
Clear Sky
Edit
The weapon is mentioned as one of six new weapons in the Anarchy Cell design document, but ultimately, it never appeared in the game.
References
Edit
↑ S.T.A.L.K.E.R.: Clear Sky, Anarchy Cell design document