GP37
Talk

34
1,156pages on
this wiki
Redirected from GP-37
GP37
(H&K G36)
General Characteristics
Type
Feeding and cartridge

30-round detachable box magazine

Weight

3.6 kg (empty)

Statistics
Shadow of Chernobyl

Accuracy: High
Handling: Good
Damage: 55.25%
Rate of Fire: 850 RPM
Value: 18000 Ru

Clear Sky

Accuracy: High
Handling: Good
Damage: 40%
Rate of Fire: 700 RPM

Call of Pripyat

Accuracy: 80
Handling: 80
Damage: 32
Rate of Fire: 630

[Source]
The Heckler & Koch G36, called GP37 in-game, is a 5.56mm assault rifle, featured in S.T.A.L.K.E.R.: Shadow of Chernobyl, S.T.A.L.K.E.R.: Clear Sky and S.T.A.L.K.E.R.: Call of Pripyat.
Background
Edit
It was designed in the early 1990s by German firearms manufacturer Heckler & Koch. The G36 chambers by default NATO Standard 5.56x45mm ammunition of varying types. The G36 is considered to be the successor of the G3 and is standard issue to the German Bundeswehr and the Spanish armed forces as well as being a fine example of modern assault rifles.
Overview
Edit

By default, the weapon weighs 3.6 kg unloaded and features a 30-round magazine. Unlike other assault rifles (aside from the FT-200m), the G36 features an integrated scope with 1.8x magnification instead of iron sights, allowing it to fill in for assault and sniper roles with excellent efficiency. The weapon comes in with 3 firing modes: single shot, 3-shot burst and full auto. The optical sight reticule pattern is identical with the FN F2000 reticule pattern. The weapon cannot be mounted with a grenade launcher by default, and also cannot use a silencer by default, except for S.T.A.L.K.E.R.: Clear Sky.
Overall it is one of the best rifles that may be found in the Zone, sometimes used by faction experts and widely used by Freedom.
Appearances
Edit
Shadow of Chernobyl
Edit
It has above-average accuracy, and has medium to low recoil, making its scope very useful. The weapon can mount neither a silencer nor the M203 Grenade Launcher.
Notable deployments
Edit
The GP-37 is commonly used by Freedom and Monolith experts based in the Army Warehouses, Red Forest, Pripyat and on the outskirts of the Chernobyl NPP. Most notably:
It's the most common primary weapon amongst Freedomers located in the Freedom HQ.
Used by Freedom forces stationed at the barrier in Army Warehouses area.
Exclusive primary weapon of Expert Monolithians located on the northern outskirts of Chernobyl NPP.
It can be found at Freedom barrier inside one of the cars
Notable users
Edit
Acquiring the weapon
Edit
Several stashes contain this weapon, the player can acquire the coordinates of one such stash (The agreed-upon secret stash) from the body of one of the Skull's party members in Army Warehouses.
Also, it is possible that Murk will be killed by a Bloodsucker in the village, and the player can simply take his GP-37.
The price was substantially increased by patch 1.0005 to 135,000 RU. Barkeep sells it for 75,000, however.
---
Clear Sky
Edit
The GP-37 is still a top tier weapon and it can be upgraded to have very high rate of fire, or lower recoil than similar assault rifles. If modified for sniping, the GP-37 is one of the best assault rifles converted for sniper use due to its already superior accuracy and its custom scope. The player can add an M203 grenade launcher to it if one modifies it for assault purposes. It can be also mounted with a silencer by default. Unlike most of the NATO rifles, it cannot be modified to fire the 5.45x39mm rounds. If the player is inclined to use the sniper upgrade tree for the GP-37, such a weapon compares exceptionally well to other assault rifles upgraded this way. It trumps others in accuracy (by 2 "notches") and is as accurate as a unmodified SVDm-2. It matches the AC-96/2 for damage, while being surpassed in this family only by SGI-5K (by one "notch"). It's handling matches both the TRs 301 and AKM-74/2, while the fire rate, and fire modes, match a TRs 301 (if the TRs is fully upgraded for sniping). At the same time it's only 0.1kg heavier than a scoped AKM-74/2. Essentially all the rifle parameters (except damage) are the best in the assault-sniper family.
Notable deployments
Edit
The GP 37 is not used by any character.
Acquiring the weapon
Edit
There are only two ways to obtain it:
Accept a side mission in the Army Warehouses which requires the player to return a Flame artifact to either a Freedom member, a Duty member, a Mercenary, or a Loner. In exchange for the Flame, the player is given a G36 and 120 5.56×45mm AP rounds. It may be worthy of note that being friendly with the stalkers (not necessary joining them) may be essential to obtain the mission.
The other way to obtain this rifle is much more difficult. Player must join the Bandit faction and finish their campaign, which means you must secure the Garbage and then the northern parts of the Cordon. After eliminating the Loner base, the G36 is a reward, along with a rare Bulldog 6.
Upgrades
Edit
The gun can be upgraded to three tiers, but only the Clear Sky technician Grey can fully upgrade this weapon. Limpid and Yar are the only other technicians that can upgrade the GP 37, but they cannot fully upgrade it, although Yar can install the final accuracy upgrade for it. It should be noted that any upgrades made after aquiring the 4x scope will revert its value to 1.6x.
Available upgrades
Edit
| | | | | |
| --- | --- | --- | --- | --- |
| No. | Upgrade name | Characteristics | Price | Requirements |
| 1 | Bolt Mechanism Modification | Rate Of Fire +15% | 2500 Ru | None |
| 2 | Bolt Mechanism Modification | Accuracy +30% | 2500 Ru | None |
| 3 | Operating Rod Mechanism | Recoil -50% | 2500 Ru | None |
| 4 | Operating Rod Mechanism | Recoil -30% (RPM decrease) | 2500 Ru | None |
| 5 | Under Barrel Mount | Grenade launcher | 2500 Ru | None |
| 6 | Barrel Modification | Flatness +50% | 2500 Ru | None |
| 7 | Built In Scope x1.6 | Built In Scope x1.6 | 2500 Ru | None |
| 8 | Built In Scope x4 | Built In Scope x4 | 2500 Ru | None |
| 9 | Extend Magazine | Magazine Size +15 Rounds | 2500 | None |
| 10 | Improved Mechanism Balance | Rate Of Fire +25% | 3750 | No. 1 + 3 |
| 11 | Barrel Replacement | Flatness +50% | 3750 | No. 2 + 4 |
| 12 | Barrel Modification | Recoil -20% | 3750 | No. 5 + 7 |
| 13 | Soft Trigger | Accuracy +40% | 3750 | No. 6 + 8 |
| 14 | Barrel Cooling | Rate Of Fire +50% |   | No. 1+3+5+7+10+12 |
| 15 | Electronic Stabilizer | Accuracy +40% | 6250 | 2+4+6+8+11+13 |
---
Call of Pripyat
Edit
In Call of Pripyat, it is one of the best sniper analogues in the game once upgraded, having sniper-grade accuracy, high durability, the lowest recoil for a rifle in the game (barring the Gauss Rifle) and being relatively cheap with common ammunition. By default it comes with a x1.6 scope. It arguably becomes the best assault rifle for sniping purposes in the game once Tier 3 upgrades are available to the player, as it can be upgraded to have 100% accuracy with no rate of fire loss- a feat only matched by the Vintar BC and SVDm2. It's performance as an assault weapon is also satisfactory, the low recoil coupled with superb handling and damage will make short work of enemies at close range. Its reliability is also very high, being nearly as reliable as the AKM-74/2.
The GP-37 is easily one of the best 5.56mm assault rifles, rivaled only by the FT-200m and Strelok's SGI 5k.
It suffers from two disadvantages over many other assault rifles - it cannot be outfitted with a grenade launcher or a silencer.
The built-in scope can be modified for either close-range combat, high-contrast sight, NVG, or adjustable magnification. Due to an oversight in the upgrade text files, the scope upgrade description mentions that the upgrade restricts the weapon's scope to x1.6 but in reality, this actually increases scope zoom to x4.0 rather than restrict.
Acquiring the weapon
Edit
It is rare to find in random NPCs' possession in the beginning of the game:
Bought from Hawaiian after achieving very good relations with Freedom.
Order an assault rifle from Nimble and have a 1 in 3 chance of getting it.
Acquiring weapon at the beginning of game
Edit
It is possible to get a GP 37 early without having to pay Nimble 20000 RU. First go to Yanov (right after start or after getting maps from Stingray 2 and saving 2000 RU). Then, in Yanov, take the mission to free Mitay from some bandits. When talking to Grizzly, choose the second option (hiring some stalkers to free Mitay at night with you). Then, get to the meeting place. One of stalkers will be equipped with a GP37. Just wait until he dies (he is wearing a SEVA suit, which has poor bullet resistance) and take his weapon. However, the weapon tends to be worn out more the longer he stays alive. Due to damage, repairing it may cost some RU, but it's still cheaper than ordering one from Nimble. However, doing this means you lose your chance for getting a Goldfish or Bubble from this mission, some of the rarest and most useful artifacts in the game.
Another way is to go to the Jupiter Factory and find the administrative documents. Taking them will trigger a script, which will spawn Black's mercenary team who will try to kill you. Just near the documents there is a flipped desk, where you can find an Eliminator (one of the best shotguns in the game) with some ammo. Fight your way to the bottom floor, where Black is waiting. If you managed to kill all of mercenaries, you will also run into black, who possesses a GP37.  This method is harder than the former one, but it may be helpful for you since giving documents and Black's PDA to Hermann will result in a  cash reward and the ability to trade with him (if you didn't do any missions for him), a chance to gain reputation with Freedom and Duty (by asking one of them to replace Black's squad and protect the scientists) and you will have the added bonus of an Eliminator shotgun.
Notable deployments
Edit
Later on in the game, most Loners who wear SEVA Suits use this gun (or the VSS Vintorez), but none of these Loners appears early in the game. Many Freedom members who wear Guardian of Freedom Suits use this weapon.
Notable users
Edit
Behind the Scenes
Edit
Depiction
Edit
The GP 37 is a full-sized G36 and not a G36K as some mistake it to be. The main proof that this weapon is a full-sized rifle is the number of ventholes present in the barrel, a G36K only has 4 while a full sized G36 has 6 holes. The game always featured 6 holes.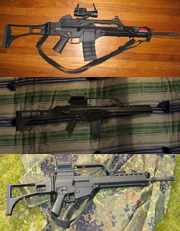 The model of the GP 37 is actually not totally based on the military-issue G36, but also on the Heckler and Koch SL8, the civilian variant of the G36 that is converted into a G36 look-alike. The main give-away about this is how the stock and grip is attached to the weapon, the grip and stock on a regular G36 is always near each other while the GP 37's are noticeable apart and are separated by a big block that is not present on military G36 models. This is due to the fact on how an SL8 is designed to eliminate the attachments of pistol grips and stocks to abide by civilian gun laws in certain countries (mostly the United States) which prohibits these features, and instead mounts a fixed thumbhole stock, where the stock doubles as the grip.
It is however possible to turn these weapons into a G36 look-alike by using aftermarket parts designed for the SL8, but will still result in the features stated above, mostly the big block of plastic in the rear that separates the stock from the grip. It is not exactly known why GSC used an SL8 converted to look like a G36 as the basis for the GP 37 than the real weapon as it would be more realistic and appealing to model the GP 37 off the real-life G36.
Despite this however, the inventory icon for the GP 37 looks like a G36K the carbine variant, which is referenced by how the icon only has 4 vent-hole than 6.
References
Edit
Shadow of Chernobyl
Edit
Clear Sky
Edit
Call of Pripyat
Edit
Freedom
Locations
Notable members

Clear Sky
Shadow of Chernobyl
Call of Pripyat

Equipment
Monolith
Locations
Notable members

Shadow of Chernobyl
Clear Sky

None

Call of Pripyat

Equipment