Loners
Talk

0
1,156pages on
this wiki
Loners


Founder

Formed from illegal personnel in the zone.

Leader

Since they are nomadic, Loners have no official, single leader.


Headquarters
Locations

Nearly everywhere in the zone.

Enemies
Neutral

Duty
Freedom
Ecologists
Clear Sky
Military (CoP)

[Source]
Loners are Stalkers that aren't from any main faction, and the name usually applies to smaller 'packs' of Stalkers. They are neutral to players and most will trade or offer missions for the player to accept. They are usually equipped with cheap weapons, hold few items and rarely have any artifacts. The Marked One is a freelance Loner, accepting jobs from a multitude of factions. It can be assumed that other Loners live a similar life.
Their main rival faction are Bandits, who have a history of preying on stalkers to extort them. They are also hostile to the Monolith although there are few encounters between them.
The loners also hold a shaky relationship with the Military. While the loners are involved with the military in the illicit trade of firearms and artifacts in the Zone, the military do have the power to shoot stalkers on sight and have been known to abuse their power over stalkers, which generally makes most Loners resentful against the military.
They also hold an unfriendly relationship with most Mercenary forces within the Zone; this is most likely attributed to the mercenaries' reputation of being secretive and somewhat unpredictable individuals who will not hesitate to kill anyone who gets in the way of their work. While they won't normally shoot mercs on contact, they will commonly deny them access to their territories.
They are neutral to the Freedom, Duty and Ecologist factions. Whilst not a proper faction of their own as per se, killing a Loner will earn the enmity of every other Loner in the game; it is implied that word spreads quickly among this nomadic group, and that they don't take kindly to murderers. Technically, Loners are the most ubiquitous group of Stalkers in the Zone outside of the Monolith faction as they can be found nearly everywhere.
In
S.T.A.L.K.E.R.: Shadow of Chernobyl
, you start the game as a Loner, and cannot officially join a faction. In
Clear Sky
the main character can join the Loners.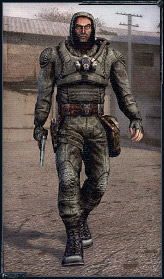 History and Apperance
Edit
Clear Sky
Edit
In Clear Sky, the Loners are one of the five legitimate factions contesting for control of the Zone. It is implied that, before the Second Emission, Loners behaved much like they do in Shadow of Chernobyl, as a nomadic, yet neutral group. However, after the military sells out a group of Loners to the Bandits, pressing them into slavery, Father Valerian and his group seize control of the Cordon vehicle station, and build up a Loners faction, as well as taking Major Khaletskiy, the man responsible for betraying the Loners, hostage. Not long after the Second Emission, the Loners are a legitimate force, controlling most of the Cordon with squads stretched across almost all of the Zone.
Faction War
Edit
In the faction war, the Loners' sole purpose is to establish control over the entrances to the Garbage, and later, the extermination of the Bandit base. To this end they will not hesitate to accept Mercs such as Scar into their ranks. After seizing the Depot and eliminating the Bandits, the Loners tend to go about their own business in the Zone.
GLITCHES: The Loners - Bandit faction war is notoriously glitchy / frustrating. Most problems point towards Loners attempting to control the paths to the Garbage, where squads will become lost between the Cordon and Garbage, and never arrive, while Bandits will never send reinforcements to their points, resulting in a stalemate. The Loners will also never take and hold the Depot, resulting in the Bandits coming back time and time again, leaving it up to Duty to eliminate them completely. The only working method at this time is to wait until a group of Loners is already moving to attack the depot and for the player to assist them in the assault. There is no reason, apart from a very small monetary reward, to attack the Depot by yourself. Doing so only results in a waste of ammunition and time, as the player will have to eventually leave and the Depot will be repopulated rapidly by bandits.
Clear Sky Personnel
Edit

The Loners faction's primary opponent in the Zone are the Bandits, and will ignore the other territories of the Zone so long as the Bandits still control their headquarters in the Garbage, the Depot. Afterwards, the Loners will spread throughout the Zone, typically controlling points that Duty and Freedom leave unattended in their bid to destroy one another.

Despite being the most prevalent faction, the Loners have little bearing on the plot. It is left rather vague as to how the faction fell apart, but evidence in game suggests Father Valerian is killed in action, and without his charismatic personality it is likely the faction simply dissolves after the events of Clear Sky.
Shadow of Chernobyl
Edit
For reasons unknown, the Loner "faction" eventually fell apart and disintegrated into roving groups than a unified faction.
While Loners are present nearly everywhere, they do not hold any more areas unlike in Clear Sky and instead simply make camp from area-to-area before moving onto another location. They do however, commonly congregate in the Duty-held Rostok factory complex, which hosts the 100 Rads bar.
Call of Pripyat
Edit
In Call of Pripyat, Loners are present in both Zaton and Yanov. They will also eventually make camp in Pripyat if one decides to continue on in free-play.
Appearances
Edit
Shadow of Chernobyl
Edit
Rankings
Edit
Rank: Experienced
Armor: Leather Jacket or Sunrise Suit or SEVA suit
Weapons: Viper 5 Submachine gun, AKM-74/2U assault rifle, Chaser 13 shotgun, AKM-74/2 assault rifle, AC-96/2 assault rifle, TRs 301 assault rifle, SGI-5k assault rifle, Tunder S14 assault rifle.
Easily distinguished by their iconic Sunrise Suits, Stalkers are the most typical members of the Loner faction. They have decent armor and weaponry and are slightly tougher than Bandits, although they are not as strong as soldiers of Duty and Freedom. Stalkers can be found throughout the Zone. They can typically withstand several assault rifle shots before dying.
Skilled Stalker
Edit
Rank: Veteran
Armor: Sunrise Suit, SEVA Suit
Weapons: Chaser 13 shotgun, AKM-74/2 assault rifle, AC-96/2 assault rifle, IL 86 Assault rifle, TRs 301 assault rifle, SGI-5k assault rifle
Skilled Stalkers are the more veteran members of the Loner faction. Some wear Sunrise Suits, while others can be seen in advanced SEVA Suits. They can often be seen carrying advanced NATO assault rifles such as the SGI-5k, IL 86 or TRs 301. Skilled Stalkers are more numerous in the deeper areas of the Zone, such as the Army Warehouses, Wild Territory or Yantar. They are similar in strength to normal Stalkers, although their combat skills and equipment are somewhat superior. Skilled Stalkers wearing SEVA Suits can survive about twice as much damage as regular Sunrise Suit-wearing Stalkers.
Expert Stalker
Edit
Rank: Expert
Armor: Sunrise Suit, SEVA suit, Exosuit
Weapons: VLA Special Assault rifle, SPSA-14 shotgun, TRs 301 assault rifle, Tunder S14 assault rifle, FT-200M
Expert Stalkers are long time veterans of the Zone, and the most skilled members of the Loner faction. They can often be found wearing power armor Exosuits, and are often equipped with higher-end Russian Federation weaponry such as the VLA Special assault rifle and the Tunder assault rifle. Some also use the NATO FT-200M. Expert rank Loners are actually fairly uncommon; most are named characters such as Father Diodor.
Clear Sky
Edit
In Clear Sky, the Loners are an actual faction, and the player's relation with the faction affects his reputation with all Loners, even those who do not follow Father Valerian and his merry band. Despite having little to no Expert level Stalkers, they have a much larger population then the other factions, and can be found in nearly every territory up until Limansk.
Rookies are loners who have just recently made their way to the zone and are still learning the ropes on how to survive, they rarely go outside the area of the Cordon but those brave enough might wander off to the Garbage. Most Rookies are only equipped with a PMm, Fora-12, Sawed-off shotguns or a Hunting Rifle but those thrifty enough may posses a Viper 5 or an AKM-74/2U. Most Rookies only have Leather Jackets as a garment but some may have a Sunrise suit instead. Rookies typically hang around near Experienced or Veteran stalkers for mentoring and protection.
Experienced
Edit
Experienced loners are those who have seen their fair share of action and loot in the zone and have earned enough cash to buy themselves some decent shooters and equipment. Experienced Loners are able to hold their own in deeper parts of the zone like the Agroprom Reasearch institute and the Red Forest. Experienced Loners have access to large selection of armaments but they all use Sunrise suits. They may either be armed with the following: an AKM-74/2, TRs 301, IL 86 or Chaser 13.
Veterans are loners who have reached the farthest and most dangerous parts of the Zone that the zone permits and enough combat experienced under their belt to rival that of a Special Forces operator. Veterans are typically armed with exotic equipment such as the Exoskeleton though some might still use their Sunrise suits. Their armaments are typically either a Vintar BC or an SPSA-14, though some might use an TRs 301 with a scope or an AKM-74/2.
Call of Pripyat
Edit
Clad in the trademark leather jacket, Rookie Loners are most plentiful in Zaton - aside from specific, scripted Loners, they do not if ever appear in Yanov. They restrict themselves to low end shotguns and submachine guns, such as the Hunting rifle and Viper 5. They normally do not last long on their own, but Experienced and even Veteran stalkers may take in Rookies on their travels.
Experienced
Edit
Wearing the distinctive Sunrise Suit, Experienced Loners make up a significant portion of Zaton and Yanov's population. Travelling in groups of two or three, they're rarely alone, and slightly better equipped than their Rookie counterparts. They make use of AKM-74/2, IL 86, TRs 301, and low and mid-tier shotguns. On occasion you may find an Experienced Stalker in a Radiation Suit using an SGI-5k in Zaton.
Veteran Stalkers wear either distinctive SEVA Suits, or the heavy armor typically worn as part of an Exoskeleton - making them some of the toughest Veterans. Like Monolith , who outfits its Veterans in a similar manner, Veterans in SEVAs will equip sniper rifles such as the VSS Vintorez, while 'heavies' will use high end shotguns such as the SPSA-14 and Eliminator. Exoskeleton-clad Loners may also wield high end assault rifles, such as the Tunder S14 and FT-200M, albeit uncommonly.
Armaments
Edit
Loners use all of the weapons and almost all armours of the Zone.
Armaments
Edit
Submachine Guns
Edit
Shotguns
Edit
ExplosivesEdit
Factions
Stalker clans and groups
Government-sanctioned groups
Other groups
Mentioned only
Cut from the game