Home
Talk

106
1,156pages on
this wiki
S.T.A.L.K.E.R. Universe
Featured Article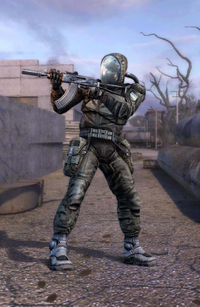 The SEVA suit is a high-tier armor that appears in all STALKER games.
The SEVA suit is a CBRN protective suit designed by a research institute in Kiev. It sports a light bullet-proof vest capable of stopping low-caliber pistol rounds, a closed-cycle breathing system and a protective suit layer that provides some of the best protection against the anomalous hazards in the zone, such as searing heat and toxic environments.
However, because of all it's high-end protective qualities, it is very expensive and normally only available from well-connected traders and the scientists working in the Zone. Thus, the SEVA suit is an uncommon sight in the Zone, normally only being worn by the Zone's hardened veterans.
Gaming Affiliates
Create blog post
News







That's pretty much the gist of it, STALKER 2 is now officially on ice until further notice. Will it ever get thawed out of cryo and get worked on again? Nobody knows.

The bright side? There's Survarium, a game now being developed by the former STALKER developers under Vostok Games, which pretty much…




Read more >
See more >