Home
Talk

106
1,286pages on
this wiki
S.T.A.L.K.E.R. Universe
Featured Article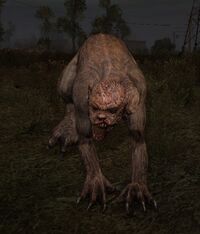 The Chimera is a type of rare and exceptionally powerful mutant found near the central area of the Zone. It is a two-headed hairless cat/dog-like creature, close to the size of an adult lion with two heads and a broad tail.
Perhaps what makes the Chimera a very dangerous foe is it's incredible dexterity, coupled with it's powerful resilience and strength. Despite it's large size, it is quickly capable of leaping great distances in quick succession, while being highly resilient to gunfire, and able to tear apart even the most heavily armored stalkers with one or two strikes of it's claws.
All these attributes makes the Chimera the ultimate apex predator of the Zone and meeting one without careful preparation may result in the untimely death of any stalker.
Gaming Affiliates
Create blog post
News
After GSC Game World was dissolved by Sergei Grigorovich for reasons only the gods would know, the development team of GSC, consisting of more than 200 people, has moved onto greener pastures, the most prominent of whom, chose to continue developing games.

This article right here visits some of the …

Read more >
See more >