Monolith suit
Talk

4
1,156pages on
this wiki
Monolith Suit
Shadow of Chernobyl
Impact

50%

Rupture

40%

Explosion

40%

Firearms

40%

Burn

50%

Electric Shock

60%

Radiation

40%

Night Vision

No

Weight

5 kg

[Source]
The Monolith suit is a protective suit of the Monolith faction. It is obtainable to the player only in S.T.A.L.K.E.R.: Shadow of Chernobyl, but appears in all three games.
Description
Edit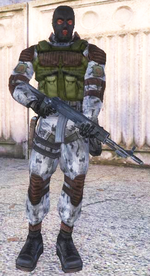 Created by an unknown manufacturer, this suit consists of a splinter pattern urban camouflage radiation suit/battledress uniform with arm, elbow and kneepads of reinforced leather, a green tactical vest with carrying pouches and a mounting place for either two oxygen tanks, a backpack or a closed-circuit Curtain helmet life support system. The vest's protection is slightly worse than that of a PSZ-7a military bulletproof vest[1].
The Monolith suit is just as competitive in terms of protection as Duty's PSZ-9d Duty Suit and Freedom's Guardian of Freedom Suit with very few differences however its lack of NVGs is somewhat discouraging.
It is usually worn in two combinations - either with a gas mask or a black balaclava or facemask and a backpack. Some Monolithians wear this suit but use the Curtain helmet, which is the same helmet/mask used on the SEVA Suit. This variant is called the Scientific Monolith suit.
Appearances
Edit
Shadow of Chernobyl
Edit
Acquisition
Edit
The suit can be found in the following places:
X18 locker room
A random stash also in X18 inside a safe behind some junk. Also has a rare Night Star along with it.
One might find a few of these suits along the roads of the Red Forest, inside trailers.
Also in Red Forest, near the entrance to X19, there is a trailer containing two of them; a rare find.
Clear Sky
Edit
The suit is identical in appearance, however, all Monolithians wear it along with a gas mask (loner variant).
Call of Pripyat
Edit
See above.
Unlike the popular Sunrise suit based armors which the Monolith suit was based on, this sports a tactical vest around the armor similar to that of the Wind of Freedom Suit which Sunrise suit based armors do not posses.
Despite being described as lacking an air-filtration system, the inventory icon clearly shows a half-mask respirator hanging around the neck area
Development
Edit
Originally, the suits came in solid olive-drab camouflage instead of the characteristic urban camo and were intended for the Duty faction.
References
Edit
↑ S.T.A.L.K.E.R.: Shadow of Chernobyl: Item description
Armour in the S.T.A.L.K.E.R. series
Shadow of Chernobyl
Clear Sky
Call of Pripyat

Body Armor
Helmets
NPC-only
Monolith
Locations
Notable members

Shadow of Chernobyl
Clear Sky

None

Call of Pripyat

Equipment