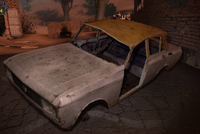 The AZLK-2140 "Moskvitch" is a small family car produced by the Soviet automotive maker AZLK from 1976 to 1988. In builds, the car appears complete with most of their parts intact. In the actual games however, these cars are stripped and cannibalized of their seats, dashboard, wheels and engines.
Ad blocker interference detected!
Wikia is a free-to-use site that makes money from advertising. We have a modified experience for viewers using ad blockers

Wikia is not accessible if you've made further modifications. Remove the custom ad blocker rule(s) and the page will load as expected.