Noiseless pistol (PB1s)
Talk

0
1,156pages on
this wiki
PB1s
(PB/6P9)
General Characteristics
Type

Pistol

Feeding and cartridge
Weight

0.97 kg (SoC)
0.7 kg (CS, CoP)

Statistics
Shadow of Chernobyl

Accuracy: Very Low
Handling: Great
Damage: 35.25%
Rate of Fire: 300 RPM
Value: 300 Ru

Clear Sky

Accuracy: High
Handling: Great
Damage: 50%
Rate of Fire: 250 RPM

Call of Pripyat

Accuracy: 81
Handling: 100
Damage: 30
Rate of Fire: 162 RPM

[Source]
The Pistolet Besshumniy 6P9 ("Silenced/Noiseless Pistol", index 6P9), called Noiseless Pistol (PB1s) in game is a silenced pistol, that appears in S.T.A.L.K.E.R.: Shadow of Chernobyl, S.T.A.L.K.E.R.: Clear Sky and S.T.A.L.K.E.R.: Call of Pripyat.
It sports an integral silencer along with the Makarov's 8 round 9×18mm magazine. The weapon uses 9×18mm ammunition.
Background
Edit
The pistol is a variant of the Makarov PM designed for spec ops use. The PB1s today is obsolete for military service but it is a collector's item for gun enthusiasts worldwide.
Appearances
Edit
Shadow of Chernobyl
Edit
The PB1s is a relatively commonly found pistol within the Zone, being held by a fair amount of rookie Loners and Bandits all around the Zone. It can be bought from both Barkeep and Sidorovich and is relatively light weight and cheap. This weapon offers poor performance and terrible durability. However the fact that this is the only widespread silenced weapon in the game makes it an invaluable weapon for stealth missions unless the player possess the Noiseless Kora.
---
Clear Sky
Edit
Acquisition
Edit
The PB1s in Clear Sky is quite rare and not held by any stalker in the Zone. It is only sold by Mitay once you join Duty. However, it is contained in several stashes in the Swamps.
The PB1s can be upgraded only by a few technicians, and the upgrades are focused on tuning its accuracy to optimal levels. When fully upgraded, its accuracy is rivaled only by the Kora-919.
Characteristics
Edit
The PB1s can be tuned to be the most accurate handgun in the entire game, but it is low powered compared to other pistols. The PB1s also has the worst durability out of any weapon in the game. It will start to take damage after you fire off a full magazine and takes slight damage for every magazine fully emptied. Its integral silencer is actually very effective ingame; for example, when stealthily engaging a group of enemies and killing one of them from a concealed position (preferably with a single headshot), the others will become alerted but will not detect you if you remain concealed. In some cases, enemies might not react to one of their squadmates being killed with the PB1s, as shown in the video below.
Call of Pripyat
Edit
Acquisition
Edit
The PB1s is extremely rare in Call of Pripyat but not that hard to actually procure. The first specimen of this pistol can be found in a foot locker near Stingray 5's crash site in the swamp in Zaton, it is located near the chopper's tail on the island it's on. The others are held by the military survivors in Pripyat, more specifically, everyone in Captain Tarasov's strike team. Rarely, Expert Bandits may have it in their inventory. It also will be sold by Hawaiian if the player earns A Friend of Duty achievement.
Characteristics
Edit
It is almost identical to the Makarov, but silenced. It has a fairly low rate of fire (avarage, but most other pistols can be upgraded for better fire rate), decent accuracy, low recoil, and low bullet flatness.
Much like in Clear Sky, it's modifications are centered around increasing it's accuracy and slight firing rate/durability increase.
Clear Sky
Edit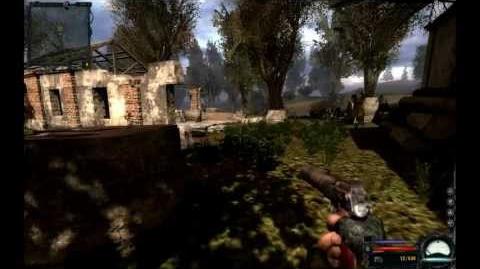 Shadow of Chernobyl
Edit