One Shot
Talk

4
1,156pages on
this wiki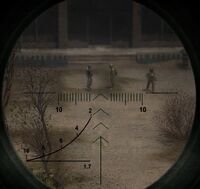 One shot is a mission given by Colonel Kovalsky in Call of Pripyat.
After being informed of the mercenary presence in Pripyat by Garry, Kovalsky requests that Major Degtyarev , along with Lieutenant Kirillov, ambush the mercenaries and kill one of the commanders. The meet takes place in the vicinity of the Apartment court yard.
The ambush
Edit
At first Jackal, a mercenary commander, will appear out along with a large retinue of mercenaries. Contrary to Kirillov's statement: Jackal is NOT the person guarding the door--he is actually the one patrolling the area. Note that Jackal is using a Mercenary Exoskeleton and is equipped with a GP 37; distinguishing him by his equipment is your best option to single out Jackal in the event two or more mercenaries clad in Exoskeletons appear.
The second group to appear is Serbin's group, all of whom are clad in SSP-99M suits. He is by far the easiest to distinguish amongst the bunch as he is the only one in his group not brandishing a weapon when he appears.
Once Serbin has arrived, the two commanders will meet at the center of the apartment courtyard and Jackal will stand on the left side and Serbin will stand on the right. Using the SVD, take out Jackal, Serbin, or better yet, both.
Consequences
Edit
If Jackal is killed, the mercenaries' resolve will crumble at the loss of their commander. Mercenaries will rarely show up in Pripyat, and are limited to TRs-301s and IL-86s. They will only use Merc Suits and appear in pairs.
If Serbin is killed, this only motivates the mercenaries to push further into Pripyat. Mercenaries will become the main opposition throughout most of Pripyat. They appear in larger squads led by one or two Exoskeleton units, both of which will often carry FT-200m or GP 37 assault rifles.
If Jackal and Serbin survive, and you haven't yet visited the X8 Lab, you may encounter Mercenaries around the building and sometimes inside of it in combat with the Monolith.

Ultimately, the choice depends on how much difficulty you want to face in Pripyat during freeplay. Killing Jackal makes Pripyat much easier to explore as the mercenaries are a nearly non-existent threat. Killing Serbin or killing neither of them makes exploring Pripyat much more exciting and hazardous as there is a high probability of encountering a heavily armed merc patrol in the streets.
Apart from the sniper rifle which you get for free: Kovalsky will give you 10 7.62x54mm 7N1 rounds if you kill none or only one of the two targets, and 30 if you kill both. If you killed Serbin, search his corpse for a Red Keycard to unlock the armory near X8's entrance.
This also makes you friendly with the rest of the military survivors, which makes them slightly more tolerant with friendly fire.
Rarely, a wandering mutant or Monolith patrol may disrupt the meet and cause it to fail. It is advised that you clear out the area of the apartment complex before undertaking this mission. A Bloodsucker is known to roam near the apartments.
You can switch to any weapon you have in your inventory for the job, preferably a Gauss gun or a heavily modified Lynx, and even an RPG-7. Tide is also a good choice, as it will allow you to quickly kill both targets without alerting the guards to your position (and thus provoking return fire). In this case, the guards simply walk away.
This side mission is a pre-requisite to earn the mercenary ending slide.
The phrase "one shot" is a reference to a phrase commonly used by snipers: "One shot, One kill."
There's a bug that sometimes will not register either kill so you only get 10 7.62x54mm 7N1 rounds.
At one point, you can shoot four mercenaries with a single shot from the Gauss Rifle.
Two of the mercenaries are carrying RPG-7s.
If a mercenary survives, he runs to a window in the apartment complex and stands there where you can easily kill him with a headshot as he does not turn around immediately.