Skinflint
Talk

2
1,156pages on
this wiki
Skinflint


Shadow of Chernobyl
Rank

730 (Expert)

Reputation

96

Affiliation

Freedom

Equipment
[Source]
"
'What good things have you brought me today?'
- Skinflint
"
Skinflint is Freedom's trader in Shadow of Chernobyl.
Background
Edit
He works as his faction's main trader and can be found in the main building of the Freedom faction headquarters. The first time the player talks to him, he'll give a quest that requires the elimination of all Bloodsuckers in the nearby village (note that this quest can also be taken from Murk). The type of items that Skinflint sells depends on your "status" with Freedom.
If the player has performed missions for them, he's likely to sell better and more expensive equipment; such as the SVUmk2 sniper rifle and the Exoskeleton armor, since patch 1.0005 the chance of him selling it has increased but the price remains high at 200 000 RU. The availability of Skinflint selling the Exoskeleton and other weapons depends and varies on your reputation with Freedom. It was noted by a random Freedom Stalker that Skinflint once made a "slow-witted" individual literally walk through a minefield and kept cursing him when the idiot's arm fell on his head.
Unlike other traders, he does not have an unlimited supply of money for trade, meaning the player cannot engage in high-end trading with Skinflint unless he balances it out by buying items from him. This would reflect his name "Skinflint", a person who dislikes spending money.
Patch Notes
Edit
After the 1.0003 patch Skinflint will now also sell you 7.62 x 54mm 7N1 ammunition for the Dragunov SVD and the SVUmk2 sniper rifles, and is more likely to offer the exo suit.
He is one of the few people in The Zone of Alienation to wear glasses, including Gordon Freeman (deceased), several zombies in Yantar and Prof. Ozersky.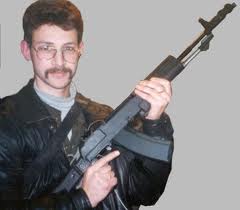 He bears a striking resemblance to Maxim R. Popenker, the author of world.guns.ru
He carries several items on his work table including a pair of Binoculars , a Knife , and an AKm-74/2 . All are impossible to aquire even after you kill him.
Freedom
Locations
Notable members

Clear Sky
Shadow of Chernobyl
Call of Pripyat

Equipment