Sniper SGi 5k
Talk

0
1,156pages on
this wiki
Sniper SGI 5k
(Sniper SG-550)
General Characteristics
Type
Feeding and cartridge

30 round detachable box magazine

Weight

4.5 kg (empty)

Statistics
Shadow of Chernobyl

Accuracy: High
Handling: Low
Damage: 53.25%
Rate of Fire: 700 RPM

[Source]
The Sniper SIG-550 is a modified SGi-5k assault rifle featured only in S.T.A.L.K.E.R.: Shadow of Chernobyl.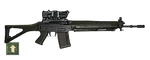 The Sniper SGi-5k features an integrated SUSAT Scope. This is rather important since the regular SGi-5k can't be mounted with any type of optic, limiting its long range capabilities. The Sniper SIG-550 does have a greater scope magnification compared to the regular detachable SUSAT Scope.
Appearances
Edit
Shadow of Chernobyl
Edit
Only two Sniper SGi-5ks exist in the game; each one being held by a Freedom guard (Leshiy and Twig). In order to acquire this weapon without harming your reputation with Freedom, you must roll explosive barrels next to the guards and shoot the barrel with only bullets. However, it is not hard to acquire a GP-37, which is superior in most regards, except for longer reload time, reduced scope magnification, and fact that this weapon can mount M203 grenade launcher while the GP 37 cannot.