Storming Obokan
Talk

9
1,156pages on
this wiki
Storming Obokan
(AN-94 "Abakan")
General Characteristics
Type
Feeding and cartridge

30 round detachable box magazine

Weight

3.9 kg (empty)

Statistics
Shadow of Chernobyl

Accuracy: Moderate
Handling: Moderate
Damage: 41.25%
Rate of Fire: 600 RPM

[Source]
The Storming Obokan is an enhanced version of standard Obokan rifle with an attached grenade launcher available in S.T.A.L.K.E.R.: Shadow of Chernobyl.
Appearances
Edit
Shadow of Chernobyl It's the "weapon of the Dutyer" that Brome wants you to fetch at the Dark Valley. It's carried by a veteran bandit named Friar. He may be found in Agroprom Institute, Agroprom Underground, Wild Territory (behind the train) and Dark Valley. Unfortunately, the gun may be in poor condition when you pick it up, should you want to keep it or get it back as stated below. The reward for the gun is a Slug.
Regaining the weapon
Edit
If you wish to get the gun back, wait until the gun is slung over his shoulder, then drop a higher quality rifle (such as any NATO rifle) near him on the ground. He will drop the Storming Obokan and pick up the rifle you dropped instead.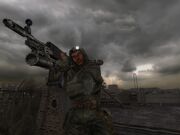 Storming Obokan is the most reliable assault rifle in game[1].
The weapon may spawn between the entrance from the Garbage to Agroprom, making it difficult to obtain the gun.
↑

condition_shot_dec --> 0.00003 - meaning it will take 33333 shots to degrade Obokan from 100% condition to 0% condition.