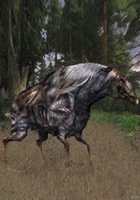 The Tark, supposedly a mutant horse, was made for the Monster Ball competition by GSC Gameworld in 2004. The prize was that the winner's monster idea would be implemented into the game, however the Snork monster won the competition, and the Tark was never implemented.
Ad blocker interference detected!
Wikia is a free-to-use site that makes money from advertising. We have a modified experience for viewers using ad blockers

Wikia is not accessible if you've made further modifications. Remove the custom ad blocker rule(s) and the page will load as expected.