Tunder S14
Talk

4
1,156pages on
this wiki
Tunder S14
(OTs-14 Groza)
General Characteristics
Type
Feeding and cartridge

20 round detachable box magazine

Weight

3.2 kg (empty)

Statistics
Shadow of Chernobyl

Accuracy: Moderate
Handling: Very Good
Damage: 63.25%
Rate of Fire: 750 RPM
Value: 10000 Ru

Clear Sky

Accuracy: Moderate
Handling: Very Good
Damage: 40%
Rate of Fire: 650 RPM

Call of Pripyat

Accuracy: 73
Handling: 80
Damage: 40
Rate of Fire: 585 RPM

[Source]
The Obrazets TskIB 14 "Groza" (TskIB product 14 "Thunderstorm"), named Tunder S14 in-game, is a very powerful and uncommon bullpup assault rifle system with an integral GP-25 grenade launcher. It appears in S.T.A.L.K.E.R.: Shadow of Chernobyl, S.T.A.L.K.E.R.: Clear Sky and S.T.A.L.K.E.R.: Call of Pripyat.
Background
Edit
The weapon was designed as a replacement for AKS-74U sometime in the early 1990s by the TsKIB SOO (Central Design Bureau of Sporting and Hunting Weapons) in Tula, Russia. Today, only the Groza-9/40 continues to be produced, made by Tula Arms plant based in Russia, and is currently issued to Russian Spetsnaz in close-combat situations.
The type featured in all games is the OTs-14 Groza-9/40s, though one of the original designs, the Groza-5.45/40, appears as a unique weapon in Shadow of Chernobyl and Call of Pripyat. The variant of the Groza used in all games is the OTs-14-4A, which is the standard rifle with an underbarrel grenade launcher installed by default. The weapon uses all types of 9×39mm rounds and the grenade launcher uses VOG-25 and VOG-25P 40mm grenade shells.
The Russian name of the weapon is a pun, as Groza means both "thunder" and "danger".
Appearances
Edit
Shadow of Chernobyl
Edit
In Shadow of Chernobyl the Tunder S14 isn't as widespread as most assault rifles. The Tunder was the weapon of choice of most Duty veterans and experts. Spetsnaz experts may use this weapon, along with Military Stalkers. The Tunder is very accurate at close range and fairly accurate at long ranges, in the right hands one could pop headshots at long ranges using the iron sights. The weapon itself is very powerful and could easily rip apart the armor of an Exoskeleton. Combined with its grenade launcher, it's a weapon for all occasions. Its only drawbacks are that its small magazine limits its firing rate, it has lower accuracy than other high-end assault rifles, it is very prone to jamming, and most of its ammunition is heavy weighing at .70kg per box which would also restrict the player from carrying lots of equipment.
Availability
Edit
Skull's team uses this weapon, and if you complete Lukash's mission to Destroy the Duty company, you can find several of these weapons and a large amount of 9×39mm rounds.
You can find one in X16. In the room where controller is, there is a WC section. The first toilet with a some kind of box over it. If you jump and push F right on the box, there is a Tunder S14 there. Not the easiest place to find.
By doing Voronin's repeatable missions, it's possible to earn an unlimited supply of Grozas, SP-6 ammo, and VOG-25s. This is a good way to gear up for the endgame.
Clear Sky
Edit
The Groza is an overall great assault weapon, where it can be upgraded for superior firing rate and stability and it's magazine can also be expanded by 10 rounds. It can also be upgraded to use 5.45×39mm rounds instead of 9×39mm rounds, making it a more economical weapon, though the 9×39 ammunition has much better armor penetration. The underbarrel grenade launcher gives user options and when fully upgraded, the Tunder can obliterate unlucky stalkers at close range in a matter of seconds. The Groza only has one upgrade tree instead of the usual two for assault rifles and has no "accuracy" upgrade tree, only the rate of fire upgrades. It can accept a PSO-1 scope and silencer by default, though it makes a poor sniper analogue since it has no accuracy upgrades and unimpressive base accuracy.
Availability
Edit
Unlike in Shadow of Chernobyl, the weapon is extremely rare. It's almost exclusive to the Duty faction, and it is only held by Duty's powerful Exoskeleton units. Generally, to get it without killing a Dutyer, the player can only get one in the following instances:
Fully upgraded, the Tunder S14 has the fourth highest firing rate, just behind an upgraded RP-74, GP-37, and the FT-200m
Call of Pripyat
Edit

The Groza returns in Call of Pripyat as, once again, a rare assault rifle. Duty forces rarely wield the weapon, and Military units instead rely on the AC96/2 and the SA Avalanche for assault rifles. Loners will not wield the weapon until much later in the game, where it can be sometimes found in the hands of those wearing Exoskeletons. One, however, can be found in Morgan's Duty cache. Ammo can be rather scarce, the best place to acquire the ammunition is in Pripyat, but if you completed Trapper's mutant hunting quests, ammunition will be deposited into your personal box in Yanov daily.
The Groza now cannot sport nor be upgraded to mount a PSO-1 scope as it did in Clear Sky, which limits its potential effectiveness at long range. This is offset by the fact that the Groza is one of the best close-quarter combat weapons available. Its caliber, paired with its high damage, manageable recoil and firing rate makes it a great weapon for urban combat and the integral GP-25 Kostyer grenade launcher makes it even more deadly against clusters of enemies and against dangerous mutants like the Pseudogiant and Chimera.
However, Tunder has surprisingly low reliability (probably lowest from any Warsaw Pact weapons), making it a questionable choice for player who wishes to compromise power, accuracy and reliability of his weapon and also due to very heavy ammunition (30 9x39 bullets weighs 0.7 kg, 4 times more than the same amount of 5.45 and NATO bullets) a player may want to stay with AC96/2 or AKM 74/2 if he doesn't want to spend 20,000 rubles for Storm.
A unique Tunder, called the Storm, can be purchased from Nimble for 20,000 RU. Like the unique variant in Shadow of Chernobyl, it is calibrated to fire 5.45×39mm rounds, with a higher rate of fire and appropriate bullet velocity to compensate for the drop in damage. It is also more reliable than the standard Tunder S14, though strength-wise, it is less powerful than the standard Tunder due to the former's weaker 5.45x39mm rounds. The Storm accepts both a Silencer and a PSO-1 Scope or any other Warsaw Pact scope by default, and with upgrades, it is arguably the best Warsaw Pact weapon in the game and can compete with the higher-end NATO weapons, despite its weaker caliber.
Depending on the player's choices, the Tunder can have the highest rate of fire out of any weapon while sporting favorable accuracy. Unfortunately, the upgrade tree is very Tier 3 heavy, which means the player will not be able to unlock Groza's full potential before reaching Pripyat and getting the Calibration Kit.
Tunder S14 Stash Locations
Edit
Duty warehouse — There is one Tunder S14 inside the warehouse, among other things, along with ammunition for it. The warehouse can only be unlocked by giving Morgan's PDA to either Shulga or Loki.
Volkhov AA complex — In between the driver and passenger seats of the van parked outside (includes several 9×39mm rounds).
Ventilation complex — Enter from the gate facing the Bandit checkpoint. In front of you will be three brick walls side by side, one of them is broken. Climb up the debris and look inside the broken wall for the goods (includes a silencer, several 9×39mm rounds, and several .45 ACP rounds).
Kopachi Village — Atop the roof of the grey house in the south eastern corner of the village (includes 90 9×39 rounds, a GP-25 Kostyer grenade launcher, and 2 VOG grenades).
Jupiter Plant-In the eastern part of the plant where the residences are, the buildings with many stairs. Its the same building with the Eliminator and documents. At the bottom of a flight of stairs behind a Burnt Fuzz.
You can also get one Tunder with some ammo for it for free if you will give General Tachenko's PDA to Lt. Shulga.
Also, there is a 5% chance that Owl will have one Tunder for sell even at the beginning of the game and without any achievements.
Development
Edit
The Groza is one of the first weapons that appeared in the S.T.A.L.K.E.R. series. It appears as a usable weapon in Build 1098 with a completely different model, but disappeared until Build 1935, where it appeared with its final model.
Also, in Build 1935, its reload speed was almost as slow as that of the Dragunov SVU sniper rifle. It was sped up in the final release, likely due to its high firing rate, low magazine capacity, and assault rifle balance.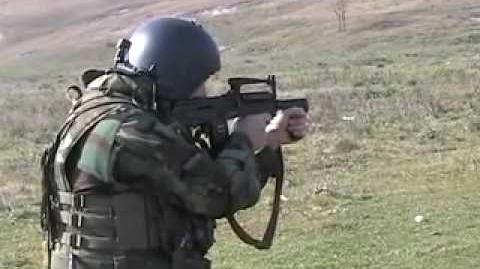 The term "Groza" literally means "thunder" or "thunderstorm" (also "horror") in Russian. Hence it is most probably where the developers got the idea "Tunder" from.
In Shadow of Chernobyl, if player loads grenade to underbarrel grenade launcher, changes shooting mode to normal and again to grenade launcher, a spinning grenade clipping through weapon's model can be seen.
In Clear Sky, the Tunder can originally be modified for sniper fire at the cost of firing rate and it's magazine would be reduced to 15 bullets. When patch 1.5.05 was released however, this modification tree was removed and upgrades fully focused on firing rate and reduced recoil. This modification tree is brought back to Call of Pripyat, but without the drastic penalties to firing rate and capacity.
In reality, the Groza – in "assault" configuration (meaning the integrated grenade launcher) – cannot mount a sound suppressor, as it blocks the launcher's barrel, which would lead to it breaking the silencer when fired. The launcher in real life can be detached, however, and then a suppressor can be safely used. A vertical foregrip is attached to the barrel when the grenade launcher is removed to give the user's non-trigger hand a convenient place to hold the weapon.
Higher-ranking Duty NPCs often use the OTs-14 Groza when they are not using the AN-94 or the AS Val.
For some reason, most Russian special forces units in reality no longer use the weapon.
The 9x39-over-40mm configuration seen in all S.T.A.L.K.E.R. games is known as the OC-14-4A. A variant of the Groza-1 (7.62x39mm) appears in the Half-Life mod 'Paranoia'.
Shadow of Chernobyl
Edit
Call of Pripyat
Edit