Monolithwarrior1996


Shadow of Chernobyl
Rank
Reputation

Very Bad

Affiliation
Equipment
Call of Pripyat
Rank
Affiliation

Monolith

Equipment
[Source]
| | |
| --- | --- |
| | This user supports the ideals and goals of the Monolith faction. |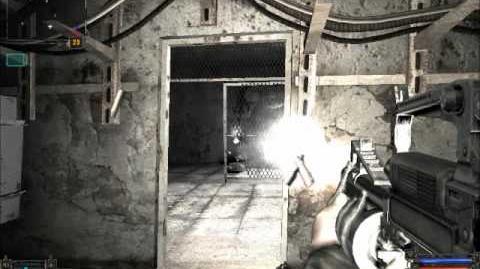 I am a teenager who loves the original S.T.A.L.K.E.R. game. I like to take screenshots of stalkers and edit them into real photos of Pripyat; some of them turn out okay but most I end up deleting because they look even more fake than usual.
I like Shadow of Chernobyl the best because for me the plot is everything and SoC has the best plot. Call of Pripyat is okay, too, but I don't play Clear Sky because I think some aspects of it are rediculous, like having to modify a a gun to put a scope on when these guns already come standard with the scope mounts in real life.
In-Game Life
Edit
Where I Live
Edit
In SoC, I pretty much live in Wild Territory. That way I can continually improve my aim with the aid of my friends the Mercenaries and my many pet blind dogs with my fast-shooting AKM-74/2 and its Kostyor. In CoP I hang around in Pripyat with my brother Monolithians and generally harrass stalkers and army dudes. You can usually find me at Prometheus Movie Theater.
How I Live
Edit
Going through SoC with Priboi Story a couple more times because I'm trying to get a feel for Dez0wave's syle of modding. I want to be prepared for Lost Alpha. However, game keeps CTDing because I was not able to properly uninstall a previous mod, so little tendrils of it are still stuck in there and I need to dig them out. Shouldn't be too hard.
With CoP, I'm running unmodded because I'm not really sick of the vanilla for it yet. Like in SoC, I lean towards blowing people's heads off from a kilometer away. Gotta love those AP rounds!
Loadout pics are TBD and TBA, and in case you're wondering why I don't have any CoP pics posted here, it's because I keep forgetting. Remind me sometime.
Mod Spoilers
Edit
Okay, incidently, anyone who's reading this, these are more like reviews and only one contains a spoiler, so if you're looking into any of the below mods you can choose whether or not you want to look. I don't have nice things to say about a lot of them.
O.G.S.E. (Old Good S.T.A.L.K.E.R. Evolution): This is the very first mod I tried, and it almost was the last one, too. Because my computer is a laptop, it could not handle this mod with dynamic lighting, and so the game not only crashed constantly when I tried to save (ironic, I know) it also crashed whenever I tried to leave the level in Army Warehouses, or wouldn't let me get in at all. I usually run on Master level for SoC, but they made this mod so ridiculously difficult that I had to down it to Veteran, which massively pissed me off to no end. Also, because of the 2 (!) controllers at the end as well as the swarm of plague rats, I had to cheat to complete the mission for finding Strelok's stash and then I couldn't see Guide for some reason, so I never was able to obtain the decoder and finish the real ending of the game. Aside from all of this, after I joined the Duty faction (for some reason-I can't remember why) I got caught in a blowout and zombified, and when I was returned to a normal state I was a loner again and they wouldn't let me re-join. My final complaint is that the electro-chimeras were complete overkill.
S.T.A.L.K.E.R. Complete 2009: This is the second mod that I've tried. It was not nearly as terrible as I found O.G.S.E. to be, and the graphics overhaul was done quite nicely. I really liked the night sky render and that when you broke boards that covered doorways it no longer made that irritating rattling sound. However there were not any changes to the plot and I didn't think the changes made a significant difference. There was entirely nothing wrong with it, but I still found it somewhat boring because of this, and I only did one playthrough with this mod.
Priboi Story: After I finished the game with S.T.A.L.K.E.R. Complete, I loaded this mod onto my computer. I immediately liked several things: (a) I was able to drive vehicles, which I'd never gotten to work in O.G.S.E. (b) The military weren't hostile to me, so it was much easier to loot the outpost and the underpass. (c) It has sort of an old-build feel to it, almost like you're walking through one of the various early versions of the Zone. I also thought that the extra overgrown-ness was more realistic, considering how nature is consuming everything in the real Exclusion Zone. (d) Freedom was already my enemy, so I didn't need an excuse to shoot their stupid asses. Aside from these nice perks, I noted in the description on Moddb that his story is somehow connected to Myechyeniy's, but I never actually found out how so even though I played the game through and collected all the documents. This brings me to the fact that the documents were enormously difficult to find-if I hadn't downloaded the gameguide, I would never have found 90% of them. I also thought the idea of the X-virus was rather stupid, because first of all they said it was a bacteria, so why would they call it a virus, second of all if it actually was a virus then I would only have been able to be infected by it once because it wasn't likely to mutate between Sidorovich going down into X-18 and when I got there, and also if he'd opened the door and even if he'd closed it again, the virus would still have infected the uppermost level as well, and so I'd have been infected immediately once I'd gone down there. I'm probably over-analyzing this, but even so. Lastly, the ending was terrible. It was kind of interesting to watch some clips of the liquidators of 1986, but they weren't really related to the ending of the game itself, in which Lt. Slepchenko was executed for knowing too much.
Oblivion Lost: This is one of the most recent mods I've tried. I'm pretty sure it was a combination of chunks taken from other mods, like the ground textures from Complete and so-on. I also liked the new weapon sounds and the shadow render, which was finished well when on the full dinamic lighting and max graphics settings. I also enjoyed the driving of the vehicles. However, I do have two complaints, the first one being the same as with Complete: given that there were no extra side-missions or plot changes, it was kind of boring. Second, you could not actually end the game. After you go through the last teleport, you're still at the CNPP in kind of a free-play, which would be fine except that after ransacking Pripyat and the elektrostantsia the Zone is pretty much pussyvil, so there's not a lot of point in going back.
LURK: I tried this mod after looking on the userpage of another Stalker here and became interested because he said that LURK was a good mod for stealth. So naturally, being a sniper myself, I decided to investigate. However, I was severely disappointed. Maybe I was doing something wrong, but I did not notice ANY increase in stealth abilities. Additionally, I could only carry 29.9 kilos before being overloaded, so whenever I tried to pick an area clean it took me about twenty or thirty more trips than it usually does, which was highly frustrating. There was no designated health or stamina bar, so it was impossible for me to keep track. I had no idea if I was about to die until the screen turned red and fuzzy, which usually got me killed. I know that a lot of Stalkers think the game would be better if it was more "lifelike," but I am not one of these. The point of playing a game is that it isn't like real life. Aside from this, there was no point in wearing armor, because any suit I tried not only weighed more than it did in the vanilla so it took up half of my carrying capacity which could be used for ammunition, it also became destroyed after being hit three or four times. I never finished the game with this mod. I gave up after dying too many times at Wild Territory.

NOTE ON PRIBOI STORY: After having given this mod a second playthrough for boredom, I wish to somewhat revise my previous comments - even though some of the aspects of this mod were not very good, I cannot overlook the fact that it's obvious Dez0wave worked very hard on it. Given this, I am still looking forward to when Lost Alpha comes out. If they put as much effort into it as they did into Priboi, I expect it to be very good.
Outside-of-Game (Slightly) Life

Edit
Sometimes I make vids of the pictures I get off this wiki integrated with my millions of screenshots and the pics I create in my spare time with the people stuck into real-life photos of Pripyat and other locations in the Exclusion Zone. I might post the ones that come out right (if any ever do) so other Stalkers like you can enjoy them :) Although, seeing as I'm a Monolithian, I might have to shoot you after (kidding).
A shout out to any Russian or Ukrainian Stalkers on this site: the Chernobyl accident happened Saturday, April 26, 1986 @ 1:24:24 in the morning. I was born Saturday, April 26, 1996 @ 1:00 in the morning. I have a morbid obsession with all things Chernobyl and I'm something of an expert on it now. I know all about radiation, especially how much can kill you and how you'll die (dont ask, its gruesome). I also have a gun fetish and have since I was six, so S.T.A.L.K.E.R. is like a godsend to me.
I'm also kinda resourceful. I have a set of city camo that I bought because I'm a huge fan of the Monolith faction, and when I couldn't find a place to order the patches online I printed off color copies and laminated them. I had velcro sewn onto the sleeves and then used some adhesive velcro on the patches and stuck them on. If I can get someone to take a digital pic of me in my Monolith uniform, I will post it.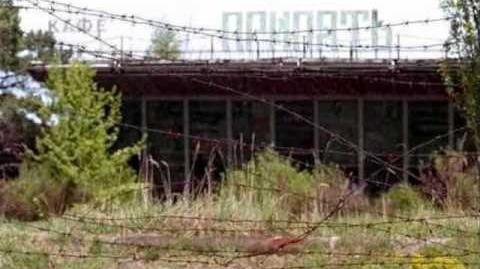 To go along with my morbid obsession, I have made a vid of before and after Chernobyl. The first song is the national anthem of the USSR, and the second song is Beethoven's Moonlight Sonata for those of you who are not familiar with classical music.
Advertisement
Edit
Not that anyone probably cares enough to read my user page, but if you're interested in the real Chornobyl, go to this site and poke around a little bit. If you get really interested, then become a user - at the time I'm writing this, I am the only admin on it and account for half of the poeple with a user on it.
My Real-Life Loadout
Edit
Like most of the other people with users on this site, I do collect some hardware. Currently, I own a broken AK-47, an SVD Dragunov with a scope, a bipod and a torch, and a Russian gas mask that cost practically nothing on the internet. I'm not actually sure how accurate my Dragunov is because I'm not a very good shot :( Eventually I'll have to post pics of me with all of my gear. I have also recently obtained a RIDICULOUSLY EXPENSIVE M-4 with a grenade launcher and two options for foregrips and stocks. It's a wonderful battery-powered shooter with 300-ft accuracy that feeds off of .20g BBs. Until I bought this gun, I never knew what it was like to be in love xD.
My Best Screenshots
Edit
THE NEW VID IS HERE!!! I would like to proudly present a 14-second long video about a bloodsucker who just wouldn't die! Please do not wonder about what happened after the end: I climbed out of my ugly little car and shot him.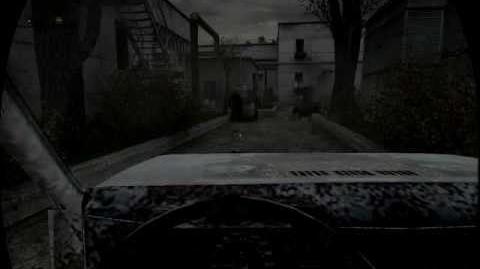 PLEASE NOTE, the weapons list in my infobox at the top of the page is a list of the guns I use most often, so do not be surprised if some other models show up in the "loadout" pictures.