| | |
| --- | --- |
| | This user has little tolerance for anarchists within this wiki. Srsly, obey the not-that-strict rules around here and we'll get along just fine. |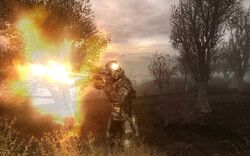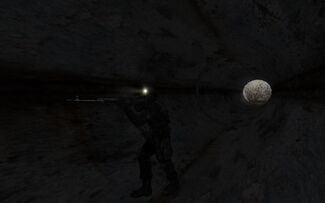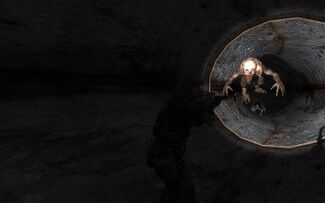 Hello and...
Welcome to my humble userpage! :) I am not so used to edit pages or argumenting on forums, so please bear with me. My editing style is little but often, therefore my edits are minor (m) by default.
I gladly communicate with other users on the wiki as well to be active in discussions, editing, etc. I'll more than happily answer questions or try to help someway. I didn't learn wiki formatting code until I started editing here, and now the page starting to get æsthetic. If you have a question or just want to chat, fire away :)
My location is in the research bunker in Yantar, and my preferred armour/weapon combination is the SKAT-9M military suit with the "Farshooter" SVD loaded with 7.62x54mmR BP armour-piercing rounds and the Colt M1911A1 with .45ACP Hydra-Shok rounds.
As an Expert, I often get calls from the state to execute dangerous and sensitive missions and operations; most often lone wolf.
Equipped with humility, determination, superb analogue and enhanced digital senses and the best accessories, armour and weapons factories can produce; I am able to conduct operations deep behind enemy lines within the zone, and also restore order among the more antisocial elements and stalkers. My specialities are direct action (DA), special reconnaissance (SR), unconventional warfare (UW) and stealth operations.
One possible Achilles' heel though, would be overconsumption of vodka in seemingly dull environments that may not be so safe after all. The result is often many magazines of wasted expensive ammo, torn-up armour, medium health, a small bleeding and lots of corpses belonging to louts, fanatics, anarchists, guns-for-hire, zombies, snorks, and other animals.
See the pages I am the creator of so far (in chronological order):
After seeing another user having it, I also decided to add some of my hardware specifications.
AMD E-ATX UNIX®-based platform:
Edit
Case: Thermaltake Level 10 GT LCS Link.
Cooling: Water (CPU + GPU), 4 case fans.
Power: Seasonic Platinum 1KW (80+ Platinum) Link.
M/B: Gigabyte GA-990FXA-UD7 (Revision 1.1, DualBIOS 3TB+ support, Bios version: F10) Link.

Socket: AM3+ (AM3b, 942-pin).

HyperTransport (HT) version 3.1*: Full-duplex DDR @ 3.20GHz (6.40GT/s, Auto modes), link splitting, ACPI D-states support, transmitter pre-cursor deemphasis, scrambling and receiver phase alignment.
Southbridge (SB): AMD SB950, 65nm (6+2 SATA-Ⅲ 600MB/s, RAID 0,1,5,10 + JBOD, TRIM support).
CPU: AMD Phenom Ⅱ X6 1100T BE @ 3.30GHz (3.70GHz automatically when using ≤ 3 cores thx to Turbo Core), Cool'n'Quiet 3.0, CoolCore, 45nm low-κ hexa (6)-core, integrated Mathematical Coprocessor (MCP) + Integrated Memory Controller (IMC), 10.5h (K10.5, Thuban core) architecture.
L1 (64KB/core 2-way data + 64KB/core 2-way instructions) + L2 (512KB/core 16-way) + L3 (6.144MB/all 48-way shared) caches with ECC, memory ECC support, AMD-V & AMD-Vi.
Rapid Virtualization Indexing, ABM, SSE4a, 128-bit floating point unit (FPU), symmetric multiprocessor (SMP), simultaneous 64-bit & 32-bit computing, 37GB/s+ (16GB/s HT bus + 21GB/s DDR3 bus) maximum total system theoretic bandwith, stock speeds. Link.

FSB: @ 200MHz (stock speed).
Video: (GPGPU-GPU): PowerColor LCS AMD 6990 (Antilles) 4.096GB GDDR5 @ 880MHz core, @ 1.250GHz memory, 40nm.
Audio: (Sound card, SPU): Creative Sound Blaster X-Fi Titanium HD @ 122dB SNR (192KHz 24-bit, X-RAM, ASIO, EAX 5.0 + EAX-RAM, THX TruStudio Pro, Dolby Digital Live, DTS Connect) Link.
RAM: 16.384GB (4×4.096GB) Kingston DDR3 dual-channel SDRAM @ 666MHz (1.333GT/s) 9-9-9-24 CR1 (ECC, advanced ECC, parity, unganged, stock speeds & timings).
HDD: 1TB WDC WD10 EARX-00N0YB0 (Caviar Green, SATA-Ⅲ, 64MB buffer size).
Disc-burner: 2× Asus BW-12B1LT (BD-RE, LightScribe).
Keyboard: Logitech G19 Keyboard for Gaming with Nordic layout.
Mouse: Razer Spectre StarCraft Ⅱ Gaming Mouse.
Monitor: 27" Samsung Series 9 S27B970D (LED, S-PLS, 2560×1440p, 5ms).
Speakers: Logitech Speaker System Z906 (5.1 surround, 500W) Link.
TPM: 20-pin Infineon SLB 9635 TT 1.2 (active shield & sensor, PKCS#11, PKCS#12, MS-CAPI, EAL4+) Link.
I do possess the source code for the Dark Engine service release if anyone is interested, including the "missing" headers & the rest of the source. They have been floating around the internet for a while now.
*The AMD 900 chipset series northbridge is qualified & rated for HyperTransport 3.1 (3.20GHz, 6.40GT/s), but the 10.5h rig currently supports up to version 3.0 (2.60GHz, 5.20GT/s, 10.7GTi, 3MT/s edit rate) and hence the speed & bandwith of the lower one (3.0) is in use.
The NB & HT speeds are @ increased (restored) defaults; which are by default underclocked by 600MHz to 1.00GHz (the default HT bus on most K10.5s is 1.80GHz to 2.00GHz, 1.60GHz on the Sempron Sargas).
*The 10.5h rig currently supports up to 16.384GB DDR3 dual-channel SDRAM @ 800MHz (1.60GT/s).
All settings in my BIOS are generally on Auto- or Enabled mode, as for the C1E- & C6-states support, AMD-V(i), etc.
The only load increase on the system is the northbridge bandwith restoration, which is permanent and as I have noticed, apparently entirely error-free :)
Since everything else is @ stock speeds, there would be no obvious need for me to use water-cooling, but the water-cooling is there to reduce moving parts & dust.
The performance increase below is due to lower general latencies & higher bandwith in the HT 3.1 bus created by the increased (restored) NB speed discussed above. HT 3.1 follows the NB speed up to 2.60GHz with 10.5h cores on Auto mode. The same performance gain from increasing the NB and/or HT speed to any level is not present in the later 15h (FX) architecture CPUs.
My machine has 0.8ns L1, 2.5ns L2, 6.0ns L3 latencies, and around 12GB/s memory copying speeds with sub-50ns latencies.